Mixed-Milk
"Olga", with Washed Rind
A  blend of raw cow and our goat milk. Washed-rind cheese in the tradition of cheesemakers in the mountains of France. Aged over 60 days. (A full wheel is approximately 5-6 lbs.)
Olga was a trainee at Seal Cove Farm from 2006 - 2007. She is a young student from the Ukraine who is studying dairy products at her University. Olga's desire and drive to experience making many different types of cheese has been the force behind our creation of new mixed-milk cheeses.
We began by experimenting with organic cow's milk and made a soft, fresh, lactic cheese similar to our excellent chevre. Olga was particularly excited to try working with cow's milk, because her grandmother had been a principal milker on a Russian dairy farm for over 40 years. Next decided to combine our sweet goat's milk with cow's milk to make a semi-hard, washed rind cheese in the tradition of cheesemakers in the mountains of France. Olga's careful handwork and attention to detail helped us create the right balance to develop a unique blend of flavors. The resulting cheese we named "Olga".
Olga's best friend and fellow student, Yulyia, has been at Seal Cove Farm since January of 2007. Yulyia's loving care and handling of the cheeses through their affinage have enhanced the process that Olga helped to create.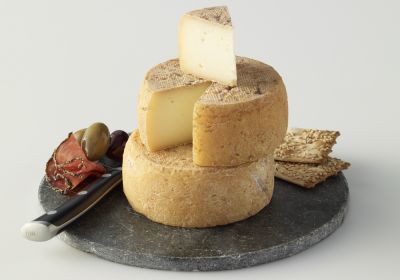 view larger