What is Nannyberries™ Compost?
Nannyberries gourmet compost is a beautiful, dark, rich soil amendment that can be used directly in any gardening application. During the heating process, it is temped and turned every 5 to 7 days, insuring even killing of weed seeds and pathogens. The pH of the final product is neutral, around 7, and our product is Solvita tested, averaging a 6.5 to 7 rating for maturity. (Scale range is 1-8, container mix maturity is 6-7.)
Building Better Soil with Nannyberries™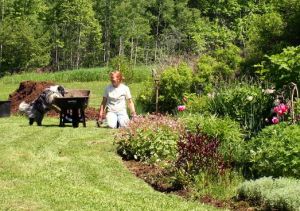 Used in raised beds or incorporated in your garden plot, Nannyberries is an excellent way to add organic matter each year to your soil. Many gardeners and landscapers use it to bed their plants and ornamentals. During periods of drought, folks are surprised to see how the addition of compost helps to retain moisture. They frequently comment that they were amazed to dig down and find a moist root system when the surface and surround area looked so dry.
How to Purchase Nannyberries™
Nannyberries is available for pickup at our farm April through November. The price is $50.00 per yard.
We can load your truck or you can bring containers to fill. Depending on the length of the bed, a standard pickup truck can hold 2 to 2.5 yards. A small pickup will hold 1.5 to 2 yards. If you have a trailer, measure the capacity in cubic feet and divide by 27 (cu. feet in a yard). A 5-gallon bucket will hold slightly more than 1 cubic foot.
If you need a large amount, check with local contractors who can pick up and deliver a dump load for you.
Compost can weight +/- 1200 lbs per yard, depending on the moisture content, so remember to check tire pressure before loading up.
Nannyberries™ and Composting News (from our Blog)
view larger image
Let's get gardening
May 6, 2015
Category: Compost News
This week winter finally seems to be letting go. Our gardens are warming up and drying out. There is plenty of great compost for tilling in  your garden. We are always available to load your truck from noon to five any day except Monday . You can still come with your buckets too!. Happy planting.
Georgianna and Bob getting treats for their sweet peasview larger image
# 1 Nannyberries Customers!
March 14, 2010
Category: Compost News
Last year at this time,huge piles of ice and snow made it almost impossible to manuver the tractor and turn the compost within the confines of the pad. Due to the fabulous late winter weather we've had this year,the compost is as ready as the customers are early! Georgianna and Bob Pulver were our first Nannyberries customers this season,and they filled their station wagon with enough compost to amend their sweet pea beds. We expect that their extensive flower and vegetable gardens will again be as bright and beautiful as Georgianna's hat !!!