Pasta with Chevre and Butternut Squash
Recipe Category: Pasta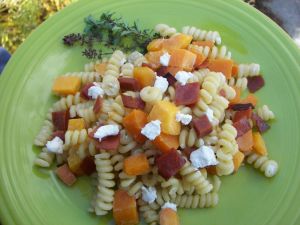 view larger image
2 cups uncooked pasta,like fusili
3 strips smoked tempeh or bacon
1 medium butternut squash
3 cloves garlic
2 tablespoons olive oil
2 cups broth
5 oz Seal Cove Farm Classic Chevre
Parsley
Directions:
In a skillet, fry bacon or tempeh in olive oil until crispy. Remove from pan.
Cut squash in 1/2 inch cubes, add to diced garlic in skillet and fry lightly. Add 2 cups broth and cook until squash is done. Add chevre to squash and warm until melted.
Cook pasta and toss with the warm Chevre and squash mixture. Top with crumbled tempeh or bacon, and parsley. Very nice accompaniment to roast chicken.
Serves 6
View Recipes by
Type of Cheese:
View Recipes by
Category: